2014 Mazda CX-5 GS - Long-term road test
February 24 2014, Sébastien Malo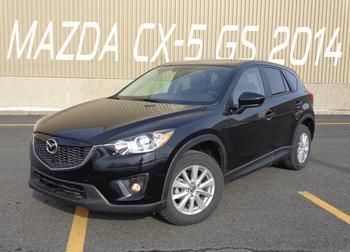 By Sébastien Malo
The impressions ...

I had the chance to try for nearly four months the brand new 2014 CX-5 GS.

This crossover is the first Mazda to adopt 100% new SKYACTIV technology, whether is the engine, the transmission or its platform.

DRIVING
First, it is important to make one thing clear: This long-term road test was done with the 2.5L engine which is available in the GS and GT versions. Another engine, the 4-cylinder 2.0L is only available in the entry-level version, the GX.

So the 2.5L 4-cylinder engine develops 184 horsepowers and 185 lb-ft, which is more than enough for everyday driving. Accelerations are honest and times are good. The test model was fitted with the AWD system which is, in my opinion a "must" to face our Quebec winters. And believe me, this system has worked very well even in the most difficult road conditions.

On board you will immediately notice the Zoom-Zoom spirit that surround. The sporty cockpit gave a reminder that we are in a Mazda, a lively and playful brand. The dashboard provides a good finish, the dials are easy to read. The front seats offer good support, either for short or long trips. Interesting to note that those seats heat much faster than many other models tested.

As for the audio, there is a 6-speaker stereo that combined an easy to use touch screen. A rearview camera facilitate our parking skills. For those who need a navigation system, know that it is only available in the GT version.

The GS version is also fitted with the Blind Spot Monitoring System (BSM).

The trunk is 966L cargo volume and greater than the previous model, the CX-7 (848L). Once the seats are fully folded, the cargo volume increases to 1 852L. The back seat fold 20-40-20, ideal for ski trips with the family,

Not surprisingly, the CX-5 is an excellent seller,the competition better watch out!